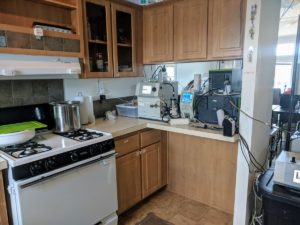 Aunque generalmente buscamos fuera de casa cuando pensamos en la contaminación del aire peligrosa, en realidad la gente hoy en día pasan la gran mayoria de su tiempo en interiores. Los ambientes interiores presentan fuentes únicas de contaminación y muchas oportunidades para la exposición humana. Las actividades como cocinar, limpiar, fumar, o incluso las emisiones pasivas de los materiales de construcción y los muebles, pueden provocar una mala calidad del aire interior. Sin embargo, históricamente, se ha realizado muy poca investigación sobre la contaminación del aire en ambientes interiores, a diferencia del aire libre.
Durante todo el mes de junio de 2018, un grupo de científicos e ingenieros se reunió para el estudio de investigación de la contaminación del aire interior más grande en la historia, que se llama HOMEChem (House Observations of Microbial and Environmental Chemistry). Más que 15 grupos de investigación de 13 universidades trabajaron juntos en este proyecto. Los líderes del estudio son la Prof. Marina Vance, ingeniera ambiental de CU Boulder, y la Prof. Delphine Farmer, química atmosférica de Colorado State University. El proyecto fue financiado por el programa de química de ambientes interiores de la fundación Alfred P. Sloan.
HOMEChem fue una serie de experimentos en una casa modelo (UTest house) en la Universidad de Texas en Austin. Los científicos simularon actividades cotidianas como cocinar, bañarse, y limpiar la casa, mientras midieron la composición del aire. El punto culminante del experimento fue su simulacro del Día de Acción de Gracias. En este día de calor en junio, prepararon una comida completa de Acción de Gracias y simularon las condiciones del aire interior de una celebración familiar en casa.
Ahora que se están analizando los datos de HOMEChem, aparecen resultados sorprendentes y emocionantes. Anticipamos que este trabajo hará una marca indeleble en el campo de estudio de la química del aire interior. Para seguir la historia a medida que se desarrolla, sigue a @IndoorChem y busca #HOMEChem en Twitter!