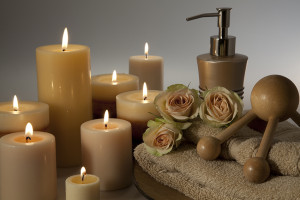 This cold, cold Valentine's weekend may bring to mind staying indoors with your sweetheart and lighting some candles.  Well, the AIRE team would like to suggest roses for your celebration this year instead, because candles are a notorious source of indoor air pollution, and that's not very romantic!
The open flame of a candle produces aerosol particles. One study found that a candle can be one of the a strongest sources of ultrafine particulate matter in the home, stronger than even a burning cigarette (Afshari et al. 2005). Paraffin-based candles emit toxic compounds like toluene and benzene (because paraffin is a petroleum byproduct). Scented candles up the ante due to the semivolatile organic compounds  that are used to give them their delicious scents.  These compounds may have their own health effects, or contribute to secondary organic aerosol formation.
If you do burn candles in your home, good ventilation is key.  You may also want to choose a beeswax or soybean-based, unscented candle.
Happy Valentine's Day from the AIRE Team!
Reference: Afshari et al., Indoor Air 15 (2) 141-150, 2005